Pioneered in natural wood-log cultivation by Japan's foremost reishi growers
Wild grown reishi is vulnerable to environmental pollution and insect infestation, which consequently diminish reishi's medicinal value. Mikei Red Reishi is an end product produced by Japan's foremost reishi growers, the Mayuzumi family who adopts strict and unique cultivation method to produce superior quality reishi.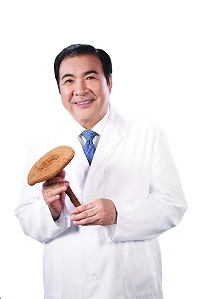 Fumimaru Mayuzumi, the chairman of Japan Reishi Association, continues to uphold his long family tradition of growing high quality mushrooms.
Natural Wood Log Cultivation



Without the use of agricultural chemicals or pesticides, natural wood-log cultivation is the first and foremost technique of using aged oak wood-logs to grow fully mature and superior quality reishi. All raw materials have passed the test of 340 pesticides by Japan Food Research Laboratory.






Wood log cultivation allows reishi to fully grow naturally, producing bigger-size fruiting bodies with higher potency.
Hot water extracted reishi essence

Using the advance hot water extraction method in Japan, Mikei red reishi produces the most concentrated reishi essence of 16.6:1 ratio extract that is highly purified and sterilized, which provides the most active compounds, polysaccharides, among other reishi products on the market.*



*

In 2000, the consumer council of HK tested over 32 reishi products on market in various dose forms including capsule, tablet, powder and granule. The test report

has confirmed that Mikei red reishi contains the highest amount of polysaccharides amongst all.

Easily absorbed,
purified extract

Marched into London's famous department store "Harrods" with 20 years of notable reputation

Since the first day of sales, Mikei red reishi has been selling in 15 worldwide countries with retail outlets spread through Asia, North America and Europe. Recently it has successfully marched into London's famous department store, Harrods, which carries most of the historic brands in London.


Quality Assurance

Mikei Red Reishi is certified by by Japan Reishi Association, an organization supported by industry leaders and government organizations dedicated to maintain the highest standards of product quality and business practices in the Reishi industry worldwide by informing consumers about Japan Reishi health food products and manufacturers.



Double quality assurance from Hong Kong and Japan
Mikei® Red Reishi
undergoes a series of rigorous safety tests from cultivation, production, exports to imports, ensuring the quality is safe from human or environmental contaminations. All raw materials required for cultivation including water, soil and wood logs have passed the safety testing of pesticides residues, heavy metals, radioactivity and microbiology etc (total of 340 test items*) conducted by Shokukanken Inc. Environmental and Hygiene Laboratory, Japan. Before the export of the finished products, every batch is required to undergo additional safety test by accredited testing laboratories, JFRL and NKKK, in Japan. At the import into Hong Kong, both the Customs and Excise Department and the Chinese Medicine Council enhance testing of the products to ensure quality is satisfactory.
*Our product safety testing in Japan covers 85 more test items of pesticide residuals than that required by the "Pesticide Residuals in Food Regulation" of the Center for Food Safety of Hong Kong .